Sami Hinkka, Ensiferum, 24th July 2018, Metaldays Tolmin
Interview by: Jadran Mihelčić
J: So firstly, a bit about the festival Metaldays;
S: Yes?
J: How do you like it? What do you think of the festival and how is it different from other festivals?
S: Well, first of all I'd say that it's a fuckin' fantastic festival, we've been here quite a few times. We were actually here when it was Metalcamp before it turned into Metaldays. Like we talked earlier, the atmosphere is really nice here, very friendly, and guess from a fans perspective, it's a great festival because it's a beautiful place, there's a river and everything where you can go chill out, because it's very hot in here with mountains all around us.
J: And it's actually in a Nature Park; this place
S: Wow ok, thank you, now I know. Live and learn. But yeah, from the artists' point of view, everything works pretty well and like I said, the atmosphere is pretty good, weather is nice, so, it's fantastic.
J: This actually my tenth year at the festival.
S: Nice!
J: Yes, I've been going for a really long time and I really say it's becoming a truly great festival.
S: Yes, absolutely, as you can see, it's very popular, there's a lot of people and I'm really glad, because it would be a shame if they wouldn't exploit this area.
J: Now a question, that I find close to myself, I'm from Croatia and this band playing now [in the background] are Croatian, so are there any plans for a show there in the future?
S: Of course, the plan is always there. We just did a lone tour, like six weeks in Europe earlier this year and now it's festival season and we're actually planning to do an acoustic tour in Europe.
J: Really?
S: Yeah, because we did those acoustic shows in Finland and it was fuckin' hilarious and fun and we've had like hardcore fans, who've seen us ten times, said that was the best show and a couple of weeks ago we play at a festival in France and the airline lost all our luggage.
J: I saw this, you posted it on your page.
S: Yeah, and I had my basses, that was pretty much the only thing that arrived, and we said; we aren't gonna cancel, 'cause we're already here, so what we did was we asked the promoter if we could have a couple of acoustic guitars and we told him we'd do an acoustic show. This was also a good kind of test, to actually see how this would work abroad and people had a lot of fun; the promoter brought champagne up to the show, he was super happy, so I really hope it works out and hope that if this will happen, we could also do a show in Croatia, because we've had some really good shows there.
J: This is a phenomenal idea, especially because you consider yourselves as a melodic, folk band.
S: Yes, the whole idea is to play songs that wouldn't be played at metal shows and rearrange some old rare songs, but also to do some covers we like, with this, more of a folkish approach to our songs.
J: And this is an interesting thing I've read; the amount of metal bands per one million people and Finland has the most [630], do you think it's connected to your culture and history?
S: Well, I think there are many reasons; all of this is just speculation, but I used always say that it's because we have such a long and dark winter, so everyone just goes to their basement and plays heavy metal (chuckles), and one thing might the Finnish folk music, it's minor chord based and is sad and lonely music so that obviously fits metal music very well. One thing that I started to think about was something we had a lot before, we still have now, but not as much as before and that is really strong music education in primary school, so everybody gets to learn about music theory and gets to play all the band instruments and I guess that also has a lot to do [with it] and there's this generation of bands, but I just hope there is a political will not to cut down on the art classes, not just music, but also fine art, painting, sculpting; it's definitely needed and I think it's always good to, even if you never become an artist, it's always good to try it, it's always good for rising in life to try different stuff especially when you're young.
J: Now, on the 4th of June you posted that you are looking for a new vocalist and keyboard player
S: Yeah
J: Well, actually, I myself sing and am finishing classical piano and music theory.
S: Nice!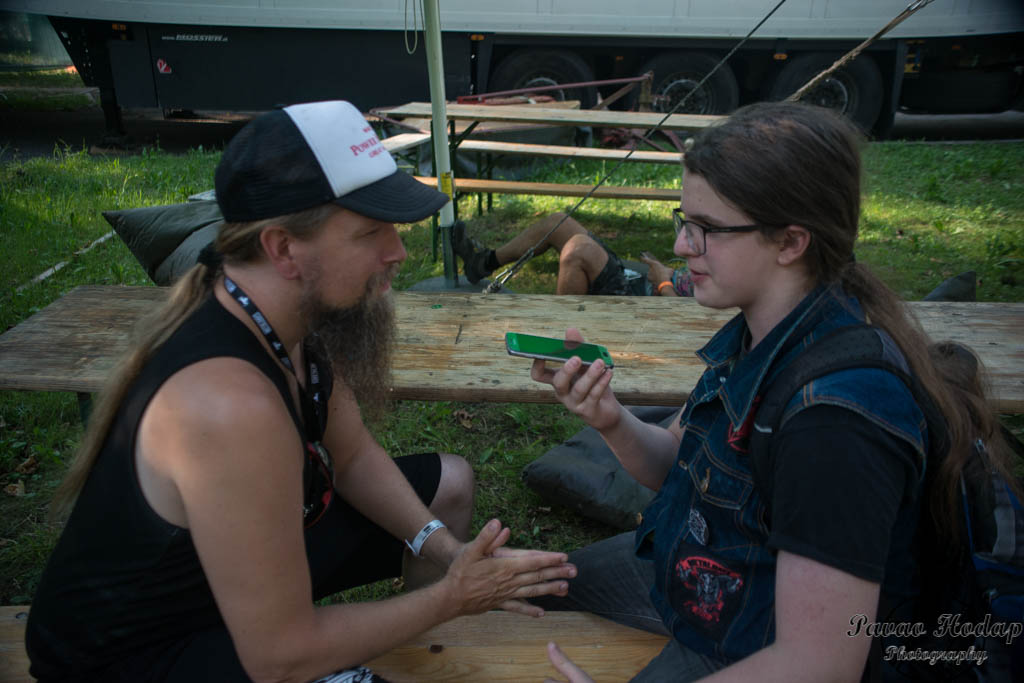 J: So, will you take me?
S: (Chuckles) How old are you?
J: Thirteen.
S: Sorry.
J: Ahhh… too bad.
S: (laughs) hey but come on, keep it going, absolutely keep it going and follow your passion, just go for it, but yeah, the thing is, you need to be eighteen because we play gigs in bars and places like this, so it might be tricky when there's a minor involved, and I would say; don't waste your life yet (laughs) by becoming a tour musician (laughs)
J: (chuckles) But, what are you looking for in a vocalist?
S: As the new member?
J: Yes.
S: Well one thing, actually the crucial thing is that this person needs to be a really good singer, I mean like, lead level, clean vocal singer. Maybe that wasn't clear enough on the announcement, but yeah, need to be good at singing and of course be able to play and compose and arrange on the keyboards. You know, the world is full of good musicians and when you are travelling with people all the time, then the show, like this show; it's one hour, but we left yesterday and we'll be home tomorrow evening, so it's like three days, for one hour, so you need to get along with people quite well, so this chemistry is maybe, even more important than [the fact that] you might have the best musicians in the world and I guess that's why many all-star bands failed, because you just unnaturally put these really talented musicians together,
J: Individuals.
S: Individuals, exactly, without the…what's the word…shit (laughs), well let's just say the chemistry is missing there, because it's,
J: It's not a group.
S: Yeah, it doesn't happen by itself,
J: Spontaneously.
S: Exactly, thank you, and I think that's what happens with a band you start working with and you grow together as a band and yeah; when you travel with people, not just tour musicians, but also friends, that's when you really start to see the true colors of a person, because then there are gonna be situations you were not prepared for, there will be a lack of sleep, things change and so on, so yeah. That's actually a good thing when you start dating someone (laughs), take a girl to a road trip, doesn't have to be a month, but a couple of days,
J: Like Metaldays,
S: Yeah, go to a festival and you'll get to know each other very well.
J: And this must be stressful touring around, I'm sure.
S: Well, I would say the thing is that you choose how you will use the time. Like I said; we use three days, just for one hour, so it's totally up to you how you will use the rest of the time. If you're just gonna be grumpy in the backstage and be miserable; "oh it's so much waiting and it's hot and oh…", or you go out and enjoy some good bands, enjoy the good weather, meet new people, mingle and really, it's really in your own hands how your attitude will be.
J: And I can tell you; you have one of the best attitudes at this festival.
S: (laughs) oh thank you.
J: I have one more question to ask you and then I'll leave you to mingle and enjoy.
S: (chuckles) yes!
J: you released an album last year, called 'Two Paths' and it's great!
S: Thank you.
J: I want to know if there are any plans for a new album in the future?
S: Of course, I would say in September, after the festivals are done, because summer is so short, especially in Finland (chuckles), because we only have a couple months…well now it's been fuckin' steaming hot; boiling hot in Finland, but anyways, we kind of calm down the summertime, just for festivals so we can, you know, do our old stuff, in between; not that many rehearsals or composing sessions, but after the festivals, we can go back to rehearsals and check up on what ideas everybody has and start working on the new songs… I think it was the 'Nightwish' manager who also said that it's good to; when 'Nightwish' was starting to peak, they said people were demanding new albums, but it's also important that artists, live, like normal lives, because that's where they get that inspiration, you need to live. You cannot be on the road all the time because that's not how their first album was done, if you think about it, it was done from the life experience you had until then. You need to live a little. (chuckles) But yeah, the new album is definitely gonna be started to work on,
J: Could you tell me maybe some secret detail about it or something, if you're allowed?
S: Well the thing is, we talked earlier, there is [still] this search for a new member and we won't be hasty about it because it's a big decision, but we really hope we will find this person, fast, because we want this person to be involved in the composing, we're not looking for a session person, we really want [the person] to be involved.
J: So, thank you very much for your time, it was a pleasure.
S: Thank you! (chuckles)
…