Day 2: Antivalentine's Day #6: 22.05.2021.; Krov Garaže Tuškanac
Let 3
Donkey Hot
"ANTIVALENTINOVO #6" has been held from 21.- 22.05.2021. on the roof of the Tuškanac garage in Zagreb as one of the most expected events of the year. Our favorite Zagreb music festival, which was traditionally held in February, has held its sixth edition in May, as a surprise, in form of a precious gift to Croatian audience. When we look back at the recent events caused by corona pandemic we can fairly say that there isn't a place in the world we would rather be than, finally, at a live concert venue!
The tickets have been sold out at a blink of an eye and expectations from the crowd are high as all couldn't be happier that this- to finally experience live music.
The festival was held in an extremely limited capacity, with all the measures and recommendations of the Civil Protection Headquarters of the Republic of Croatia, and only 350 tickets per day are on sale, with regard to corona virus precautionary measures. It was somewhat hard to believe that the band is going to play in front of such a limited crowd in a very strange circumstances, as, unfortunately, there were no current plans to repeat the concert in the following days. Unfortunately, many people didn't even have a chance of buying the concert tickets as they were sold out to fast so I feel sorry for all those that stayed empty-handed. Especially taking into consideration that this was an event most of us were waiting for a very long time and very eagerly.
This totally changed circumstances and performance setup has been strange, but the experience of having to be seated during the concert wasn't entirely strange yesterday, as majority in the audience saw a first concert after a very long time. Yesterday's conclusion was: it better to have the strange concert experience, at least, rather than none at all. But, conclusion after the day two has changed and we can fairly say that this isn't normal and can't be sustainable. I will rather not attend a concert of a band I really love in the circumstances I have to be seated, as there were times I just wanted to explode- as it is not natural nor normal that the band gives its all to create the perfect atmosphere and the audience doesn't provide feedback as they are all seated and forced to behave.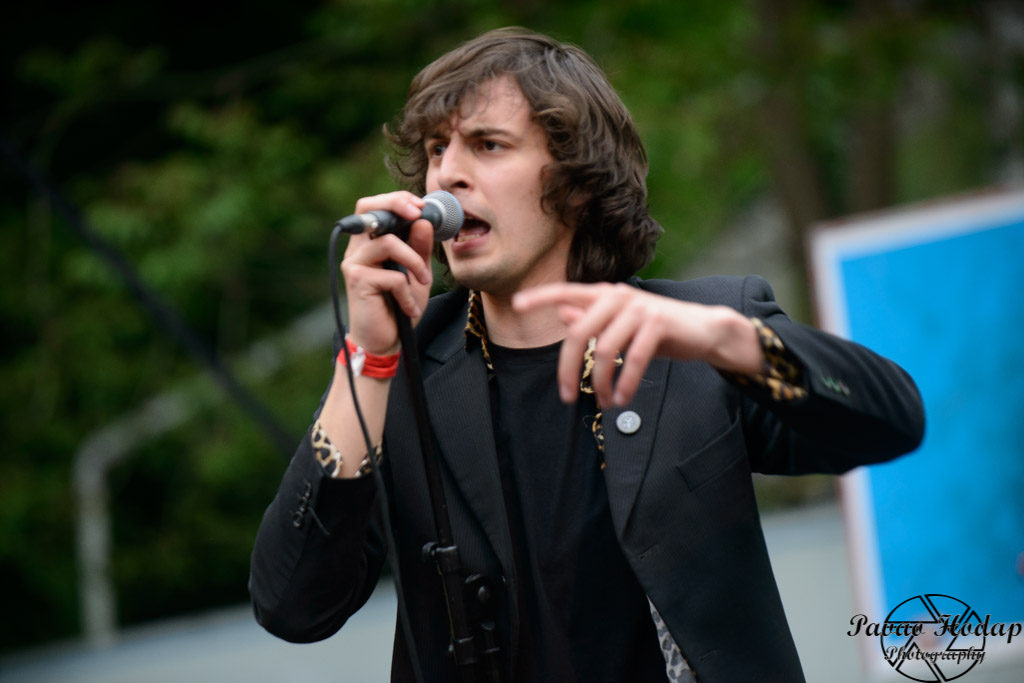 Donkey Hot call their music "quartcore" – they provide a dose of fierce Rock'n'roll with themes of living in the hood in their lyrics. One can expect everything from these five member band, as they created an uncompromised Rock'n'roll gig that simply bursted with their creative energy, which came as a surprise- as I must admit I had second doubts regarding their youth, but none of the traces of any rookie mistakes could be found. The band members state that their main goal is to "make enough money to be able to buy their own neighborhood where mega-neighborhood parties would be held". Let's wait and see will they make their dream come true.
The frontman of the band is Vili Gobac which has a particularly heavy task of creating his own style and coming out of the shadow of his father, Davor Gobac, the greatest frontman in Rock music in Croatia. There can be no mistake, as even people who didn't know that Vili has a famous father could concluded that, as even their voices sound the same, as well as some gestures and appearance. But, Vili is on a good track of creating his own stage signature and clearly has no problems when it comes to entertaining and engaging the audience.
This year's festival slogan was "No music, just fucking!", but indeed it was a celebration of hope of upcoming freedom, love, life and music. After the first few songs Let 3 performed, I realized: WHY this slogan. Live concerts are only great and successful if magic and symbiosis between the band and the audience is created. The more the band gives, the more fierce feedback and love the audience gives back in terms of fired up, dancing and screaming crowd. If you try to forbid dancing, shouting and gathering in front of the stage: you get: No music, just fucking!
But, let's not be ungrateful, as after all, it was a great live performance and there are worst things in life, such as online streaming concerts and other monstrosities.
Tuškanac was finally ignited by the conceptual initiators of the festival: Let3 and no one could stay indifferent to another ferocious performance of the band, that are always carefully planned as artistic shock performances and always stay in the memory as unforgettable experiences. This year, the best and most significant Rock treat that can be seen in this area was particularly impressive, even from the very first moment, as a long, long waited present and a real treat.
It is impossible to pick out the most important hits, because they played them one by one in the magnificent array of the best music delicacies that distinguish themselves as the very best that Croatian Rock bands have ever made in this area ever and have completely won the audience. The absolute peak of the concert was the performance of "Riječka pička", but let just name a few that fired up the atmosphere to the boil also: "Kontinentio" "Izgubljeni!" "Profesor Jakov". Their songs marked very important milestones in our childhood and growing up days and thinking of youth somewhat becomes impossible without associating some of the nights out and other happenings with one of those songs.
As a conclusion: thank you Let 3 for agreeing to the concert, even with this epidemic percussions measures, and making us feel sane and happy again, although the overall experience was more brain-fucking, and less music, but it's at each one of us to make the best out of given circumstances.