Big entrance through the Backdoor!!
FLORENCE BLACK
STEEL PANTHER
The concert was opened by Welsh three piece rock band Florence Black, which gave an excellent intro into the show.

I must admit I was overstressed due to all of the recent events around the concert dates that cannot be even counted out. I was devastated to hear that the planned Whitesnake concert had to be cancelled due to health reasons. For fuck's sake! It was the concert of the year for Croatia (or one of the concerts of the year, as there are so many and all musical tastes are different. I can also add that Croatia has became the centre of the planet Earth for metal concerts as Iron Maiden started their long awaited tour in Croatia in front of the followers from all over the world. Even Steel Panther recognized that Croatia became centre of the earth as a main concert venue by stating that last night was a celebration of entrance of Steel Panther into top 100 bands up to this date. That have performed in Croatia this year only;)))). So, all the stress around cancellation of the dates, total grinding holt of the tour caused by corona and recent cancelation caused the overwhelming stress that enabled me to fully experience the band that opened the evening.

Nevertheless, all congratulations go out to Los Angeles Agency that made all this possible. I'm sure it has been exhausting and seemed like an impossible mission but they've made it!! Thank you guys for all your efforts, as I'm sure it has been very stressful and exhausting as you all know: Croatia became centre of the earth for tour openings and the tour management crew has been very busy with all other arrangements! Thank you for making somewhat of a disappointment of the year into a beautiful night of celebration of only good vibrations and positive and uplifting music that indeed have satisfied all of Dino Jelusick and Steel Panther, but also Whitesnake fans!
The Californian band Steel Panther is best known for its humour and lyrics, as well as its stage performance that enhances the typical glam metal style. Steel Panther gained local popularity in the early 2000s playing the clubs of LA's Sunset Strip, then still performing under the name Metal Shop and pretending to be a band that missed their big break in the 80s. After several changes, they stick to the name Steel Panther and start touring outside of America, soon occupying higher positions on festival line-ups. Steel Panther are known for their live performances, and the breaks between songs often emphasize conflict between band members, discussions about sex and drugs, and improvised humour. The band is credited with reviving the forgotten hair metal and glam rock genre, and all the biggest names of the scene, including Def Leppard, Motley Crue and Guns'n'Roses, invited them on their tours as opening acts.

Steel Panther opened the night by "Goin' in the Backdoor" and instantly fired up the audience. The aforementioned was followed by "Tomorrow night" and "Asian hooker" which really brought the audience to the boil!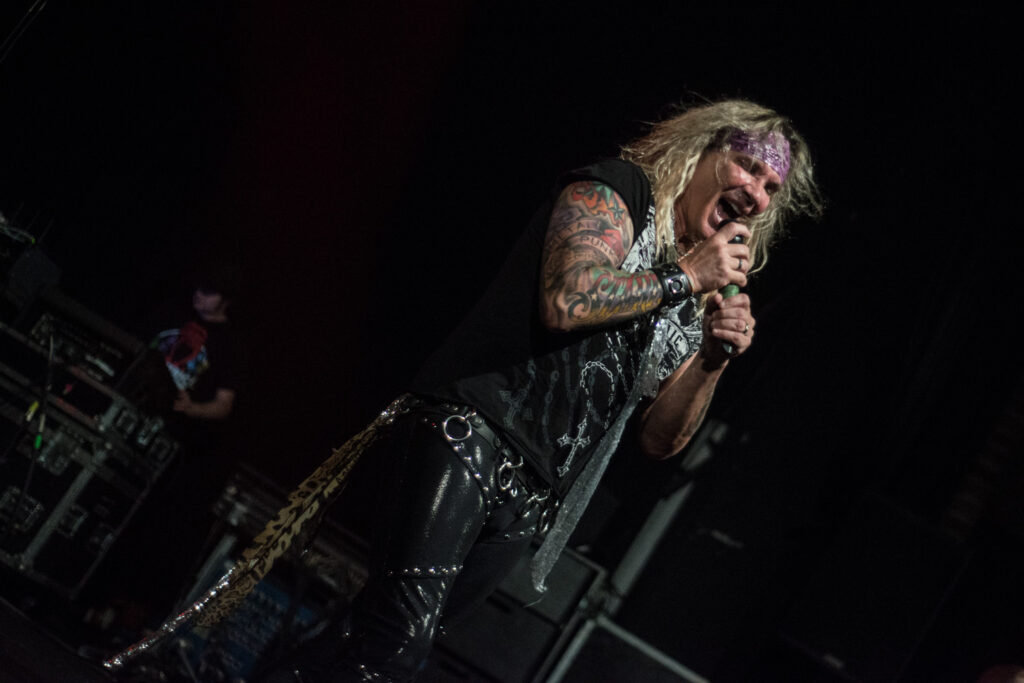 All tastes cannot be aligned and as one great man said: "You are not a bottle of whiskey- you can't satisfy everyone!", so multiple complaints could be heard on the band which had too long breaks which were filled by some sort of a stand up show. I personally haven't resent the band for it, as this was my first time to see them live and all the jokes I have heard were the ones I hear for the first time and they genuinely made me laugh my ass off. The "some sort of a stand up show" was successful in my own personal opinion, as it made a special bond between the band and the audience and have genuinely and truly made this night magical and special.

The bands opus is well known and I don't have the need to describe the details of their style as they are known as American comedy rock band from Los Angeles, California, mostly known for its profane and humorous lyrics, as well as its exaggerated on-stage pastiche of the stereotypical glam metal lifestyle. All of those factors made every single member of the audience loosen up, relax, forget all of the earthly problems and fully enjoy the evening filled with fun, great riffs and dreams of gigantic titties.
The performance was spiced up by Ozzy tribute song performance of  "Crazy train" and "Iron Man", at which the  lead vocalist Ralph "Michael Starr" Saenz bite off the head of a stuffed animal bat.

Some of the highlights were performances of "Death To All But Metal" and "17 girls in a  row" at which the band was accompanied by female fans om stage.
But the absolute highlight was a surprise visit form Dino Jelusick which performed "Jump", "Here I go again", "Final countdown" and melted all the hearts in the audience, both male and female ones as the band and Dino took us into a instant flashback to "good all days" when music was all we lived for and problems were not existent due to blindness of our teenage years, during which we lived for fun and music only. A quest majority of us failed at due to work/health/family issues that made some of us highly functioning robots. A quest Steel Panther succeeded at it and successfully demonstrates to all of us that dreams can come true and you can forget all the troubles and have a time of your live only if you decide to do so!

Dino Jelusick received the biggest ovations I have ever seen and it was really beautiful seeing Dino perform in front of domestic audience and we were all happy for him, as he received the best audience feedback ever. That exact instance was the moment we realised that Steel Panther and organisers have succeed in the hardest task ever: to compensated absence of Whitesnake- as they've done in it a beautiful manner taking into account all possible options.