The explanation on HOW THE HELL PUNK'S NOT DEAD!!
Punk legends THE EXPLOITED have returned to Zagreb! They came as part of their European tour "DISORDER TOUR 2023". Local punk legends, hard core punk band NULA from Šibenik, performed as special guests.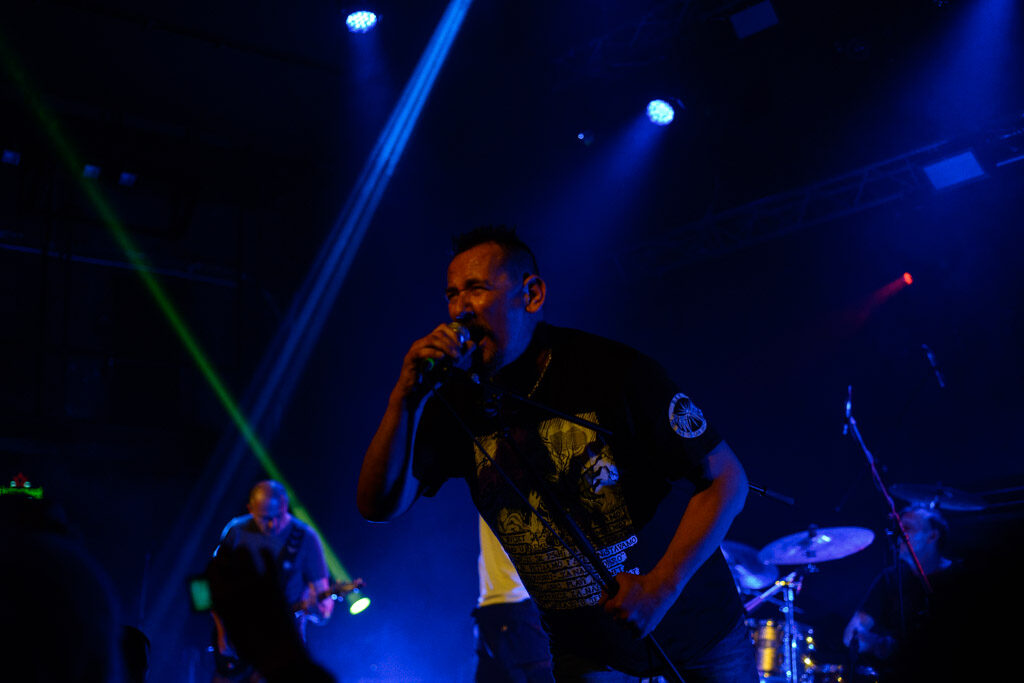 The reactivated band Nula was indeed the best overture for The Exploded show, as they offered their uncompromised version of socially and politically active band in a country where political outrage should be something we live by and a motivator that drives people to action, revolt and demonstrations on the streets. BUT, in this country nothing ever happens as rarely anyone is capable of thinking beyond anything else than what's needed for themselves. Basically, a country of assholes thinking about their asses and position of their asses in nice and comfortable business class chairs who are not capable of even comprehending that they are leaving scourged earth behind and no future for the young generations! That's exactly why we desperately need bands like NULA and I could be happier because the band is performing live once again. We need anarchy, change and revolutionized anger or soon, very soon there will be no more healthy society parts left in this country to fight for!
The band recently reissued their debut album "Pobijedimo laž", published 25 years ago and thera are great and sad news to it. Musically and inspiration wise the album is still relevant and hasn't lost its edge, drive or appeal. That's also the sad news: it's still actual live it was produced yesterday: politically and socially we haven't made any progress, in fact we made many gigantic steps back in decay of society. Politicians remain selfish and evil bastards (as in the song "Kurvini sinovi") that will ruin and destroy nature, lives and society in their blind and selfish greed.
"MUSIC MIGHT TAME AND CIVILIZE WILD BEASTS, BUT 'TIS EVIDENT IT NEVER YET COULD TAME AND CIVILIZE MUSICIANS." — John Gay
The Exploited, a legendary punk band founded in 1979 in Edinburgh, is reputed to be one of the most important and biggest names in the punk rock scene and have been the role models for numerous and renowned punk, punk rock but also metal bands. Their influence is beyond description as they are living legends and a band you shouldn't ever miss, at least once in a lifetime!
The Exploited performed for the first time in Zagreb, in 1984 in the same hall where they will perform again after almost 40 years.
The performance was ecstatic, the band transferred the musical expression that literally conveys all Wattie's anger and frustrations of this world, creating enormous amounts of pure energy. I was genuinely amazed and astonished as I kept my expectations low in order to avoid the possible disappointment but no traces of that appeared!
As one of the most influential bands in the history of punk and punk rock we can only state that the setlist was insane. The band created some of the iconic songs of the numerous generations and the concert yesterday included the legendary hits as: "Beat the Bastards", "Fuck the System" and "Fuck the USA". Encore included the legendary "Punks Not Dead" and the absolute climax of the concert "Sex & Violence" with the crowd on stage which ignited complete chaos.
The hardest part ever is trying to analyze and summarize The Exploited concert. For the first time ever, as a music reporter, I've found myself in a difficult task of hectic brainstorming about the essence, meaning and feelings I want to share and interpret. Finally, after significant amount of countless hours of thinking attempts a brilliant conclusion popped up: you can not explain it in words, you must experience The Exploited concert at least for once in your life and after you've felt it: you'll find the meaning and purpose and know one fact: "I can  die peacefully now as I lived in the same era as The Exploited did and I got a chance to see them live."
Another takeaway you should have felt after the concert is: if the punk icon, the singer Wattie Buchan, born in 1957, can burn and dominate the stage: so can you!! I know many who are not only half his age, but contain 1/3 of those years and experience and are already done and have quitted fighting for anything anymore. Atop of all he has been great regardless of his recent health problems with his heart.
We all very much need be to be angry and revolted and we need punk bands like The Exploited to be the spark and burn for us, as we know: live on earth is not going to be bearable anymore due to wars and climate changes if we don't act and burn the streets not now: but yesterday ago was the right time.
The Exploited proved that punk is very much alive with all the youngsters fighting for air and every move in an insane pogo in front of the stage.
Fun fact:
In the 2007 documentary "Punk's Not Dead", both Wattie and Wullie Buchan are interviewed. They are the only two native speakers in the documentary to be given subtitles, as many North Americans struggle to understand the Scots language used. – Give some interviews a listen! They're great!
Conclusion:
I've been to The Exploited. It's been fucking awesome!
My life is fulfilled now!
There's the meaning and purpose I've been looking for. Next time I find a cause a wanna fight for: I'll be ON STREETS FIGHTING FOR IT and will not merely click "Interested" button on a protest web site!!