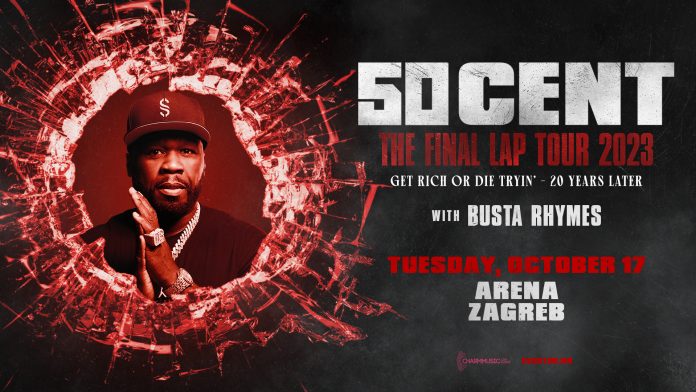 When:
2023-10-17T00:00:00+01:00
2023-10-18T00:00:00+01:00
Zagreb, June 2, 2023 – Curtis James Jackson III, better known as 50 Cent, will hold
concert on October 17, 2023 in Arena Zagreb, as part of the big world tour "The
Final Lap Tour! Award-winning rapper, television producer and actor with this tour
will celebrate 20 years since the release of his debut album "Get Rich or Die Tryin'"
one of the most significant and best-selling hip hop albums in history.
The tour starts in July in Salt Lake City, 50 Cent will visit by the beginning of next year
America, Great Britain, Europe and Australia and held over 80 concerts. Concert in
Zagreb is his only visit to the region on this tour. He accompanies "Fifty" throughout the tour
his great friend and another hip hop great – Busta Rhymes. Because of the big one
audience interest, and sold-out concerts in just a few weeks, in Great Britain and
After a great musical success, Curtis "50 Cent" Jackson used his power
stars to achieve equal success as an enterprising actor and television
producer. In 2005, he founded G-Unit Film & Television Inc. production house
which produced a wide variety of content on numerous platforms and sold countless
show on various networks. Among them are the critically acclaimed series, "Power",
in which he not only acted, but was the executive producer and director.
The entire "Get Rich or Die Tryin'" 50 Cent will "do" the tour in the company of his great
friend Bust Rhymes, another indispensable hip hop name. One of the best hip
hop songwriter, also known for his unique visual style, Busta Rhymes
he was nominated for the Grammy Award 12 times.
BUSTA RHYMES – #TWERKIT FT. NICKI MINAJ
50 Cent and Busta Rhymes are preparing a big hip hop show that is definitely not to be laughed at
miss. Ticket pre-sale starts on Monday, June 5, when the possibility will
subscribers of the Eventim.hr newsletter have to purchase, general ticket sales start at
Tuesday, June 6 through the Eventim.hr system and at physical points of sale
Events.