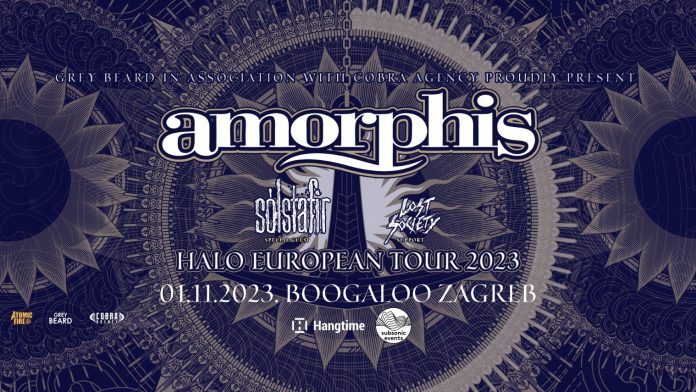 When:
2023-11-01T00:00:00+00:00
2023-11-02T00:00:00+00:00
After nine years, the Finnish metal legends Amorphis are returning to Zagreb as part of the European "Halo" tour! They will be joined on stage as special guests by atmospheric post metallers from Iceland Solstafir, while Amorphis' compatriots Lost Society will open the evening. The venue of this extraordinary metalion ceremony is Boogaloo, the date is 1.11. (All Saints), and this will be their only concert in this part of Europe. A limited contingent of tickets at an early bird price of 27 euros will be available SOON at the Dirty Old Shop or through their website until June 15 or while supplies last, after which the presale price will be 31 euros, and on the day they will cost 35 euros.
Amorphis is a Finnish heavy metal band founded in 1990 in Helsinki. Their style initially leaned more towards death metal, and over the years they became known for numerous stylistic variations, among others they flirted with a more progressive and folk sound. They often use the "Kalevala", the national Finnish epic, as inspiration for their songs. The band has released 14 albums in its 33 years of existence, and the most recent "Halo", which will be promoted on this occasion at Boogaloo, saw the light of day in February of last year. The band members are Tomi Joutsen (vocals), Esa Holopainen (guitar), Tomi Koivusaari (guitar), Olli-Pekka Laine (bass), Santeri Kallio (keyboards) and Jan Rechberger (drums).
www.amorphis.net
www.facebook.com/amorphis
www.instagram.com/amorphisband
www.youtube.com/amorphis
Sólstafir is an atmospheric post metal band from Iceland, founded in 1995. Just like Amorphis, they experienced a strong change in style as they nurtured a black metal expression in the early days. Since 2011, they have been collaborating with the publishing house Season of Mist, for which they have released four of their seven albums in total. This will also be their return to Zagreb after six years.
https://solstafir.is/
https://web.facebook.com/solstafirice
https://www.youtube.com/watch?v=A6j7mUxGz20
https://www.instagram.com/solstafir_official/
Lost Society is a Finnish band founded in 2010 that nurtures a more modern metal sound by combining various styles. In the beginning, they were more oriented towards thrash and songs about partying and drinking, while now they lean more towards metalcore and groove metal. They have released five albums so far, and the most current "If The Sky Came Down" from 2022 will be promoted at this big metalion feast in Boogaloo.
https://lostsociety.fi/
https://facebook.com/lostsocietyfinland
https://www.youtube.com/watch?v=ctf0aWXocuQ
https://www.instagram.com/lostsocietyfi/