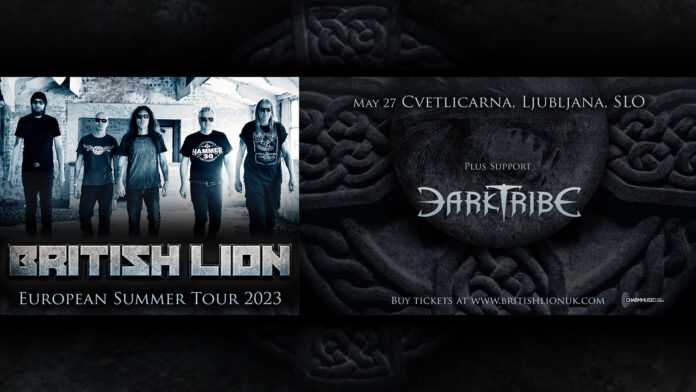 When:
2023-05-27T00:00:00+01:00
2023-05-28T00:00:00+01:00
BRITISH LION CONCERT BY IRON MAIDEN BASSIST STEVE HARRIS,
MAY 27, 2023 IN CVETLIČARNA IN LJUBLJANA!
Very important news for all fans of Iron Maiden and fans of heavy metal music! In May of this year, Slovenia promises a really perfect metal weekend with two superb British bands! The evening before the Iron Maiden concert in Ljubljana, which will take place on May 28, 2023 in Ljubljana's Stožice and was sold out in two days, we will enjoy a concert by Steve Harris (Iron Maiden), a hard rock and heavy metal band whose name is British Lion! The concert will take place on May 27, 2023 in the Ljubljana club Cvetličarna, which will be the first show of their summer European tour 2023! Dark Tribe will also perform as an opening act. Tickets are already on sale at 
http://www.eventim.si/…/british-lion…/event.html
Steve Harris founded British Lion with the intention of performing in smaller concert venues, otherwise used to the world's biggest stages as the bassist of Iron Maiden. Harris also experiments more with different bass lines in British Lion, which includes singer Richard Taylor, guitarist David Hawkins and Grahame Leslie and drummer Simon Dawson.
Harris met Leslie in the early 1990s after Leslie sent him his demos, and later mentored both him and Taylor in their careers for several years. Soon, however, he decided to include them in his British Lion project. Their performances are timed to coincide with Iron Maiden's, precisely because of Harris' desire to perform in smaller clubs, thereby somehow reliving the early years of Iron Maiden's career.
The 2012 album "British Lion" was released by Harris as a solo project with guest musicians, but it soon grew into a group of the same name, for which Harris, Taylor and Hawkins write songs. They released their second album "Burning" in January 2020, but their concert plans to promote said album in 2021 were interrupted by the covid-19 pandemic.
PRE-SALE:
www.eventim.si
 and all authorized points of sale in Slovenia
(Petrol, OMV, Pošta Slovenije, Big Bang, Trafike 3DVA, (K)kiosk, Eventim ticket offices…)
Ticket price: EUR 25.00
See less