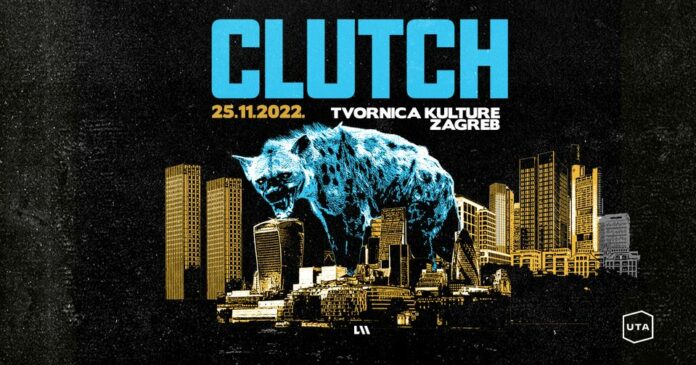 When:
November 25, 2022
all-day
2022-11-25T00:00:00+00:00
2022-11-26T00:00:00+00:00
UK & European Tour 2022
Big favorites of the local audience, American underground rock champions, the group Clutch returns to Tvornik kultur on Friday, November 25. as part of a big European tour.
Their premiere arrival in Croatia in the summer of 2016 was originally planned at Močvara club and sold out in just 4 days, after which it was moved to Tvornica kulture, for which all tickets were sold a month before the event. After the concert, the band repeatedly pointed out that the performance in Zagreb was one of their favorite in the last few years, and Zagreb was included as the only date in the region on the next tour. And in 2018, they sold out Tvornica three weeks in advance, and on November 25, 2022, they will return to it as part of a big European tour.
Clutch was founded in 1991 in Germantown (Maryland) by Neil Fallon (vocals), Tim Sult (guitar), Dan Maines (bass) and Jean-Paul Gaster (drums). To date, they have released 12 studio albums, collaborated with a whole series of big names in the scene, and in the process became probably the most famous name in the genre that is now called groove rock, as one of the subgenres of the stoner rock movement. The band experienced a more serious breakthrough with the fifth release, "Pure Rock Fury", released in 2001, when, thanks to the singles "Careful With That Mic", "Immortal" and "Open Up The Border", they caught significant airplay on American rock radio stations. They experienced definitive global affirmation with the albums "Blast Tyrant", "Robot Hive/Exodus" and "From Beale Street To Oblivion", released in the mid-2000s. They visited Croatia for the first time in 2016 as part of a tour where they promoted the excellent release "Psychic Warfare", as well as two years later when they released one of the best albums of their career – "Book Of Bad Decisions".
The official sales points are Dirty Old Shop (Tratinska 18), Rockmark (Ulici Hrvatske bratske zamjedina 4), Aquarius CD Shop (Varšavska 13), Dallas Music Shop Rijeka (Splitska 2a), all points of sale and the Eventima website, as well as all sales places and sites Entria.