When:
2019-10-11T00:00:00+00:00
2019-10-12T00:00:00+00:00
Hammer Concerts presents:
DALRIADA – 15 / NEVERGREEN – 25
11/10/2019.
Barba Ne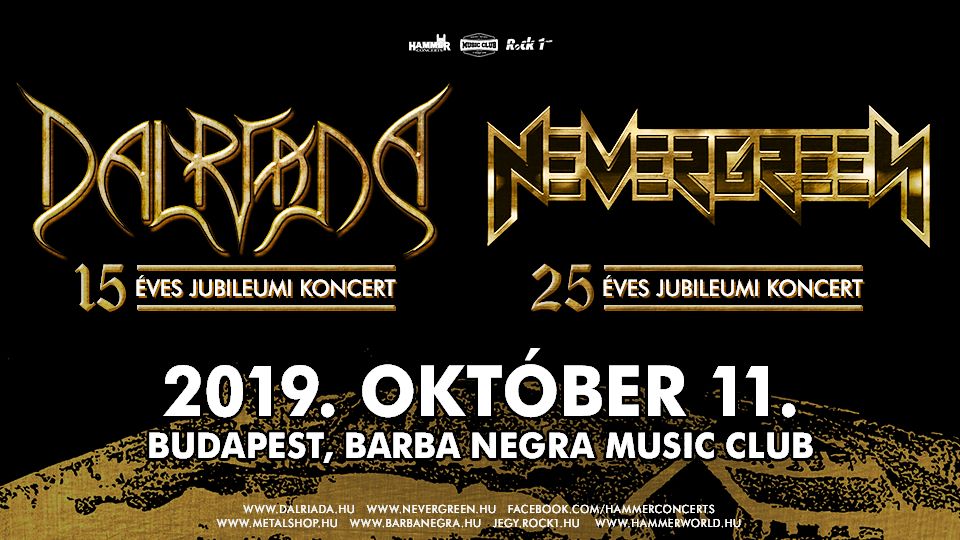 gra Music Club
1117 Budapest, Prielle Kornélia utca 4.
a joint anniversary concert on the anniversary of the release of the two bands' first albums (Fergeteg / Game Over)
❒ TICKETS:
2500 Ft ▲ Early Bird – September 09, 2019
3000 Ft ▲ In advance
3500 Ft ▲ On the day of the concert
❒ ONLINE TICKET:
https://jegy.rock1.hu/dalriada_nevergreen_20191011
❒ TICKET INFORMATIONS
▲ We can only accept liability for tickets purchased from ROCK1 or our official partners (www.ticketportal.hu, www.broadway.hu). // We can only take responsibility for those tickets that were bought at ROCK1 or at our official partners.
▲ Do not publish your ticket on any interface // Please do not post your ticket at any online interface!