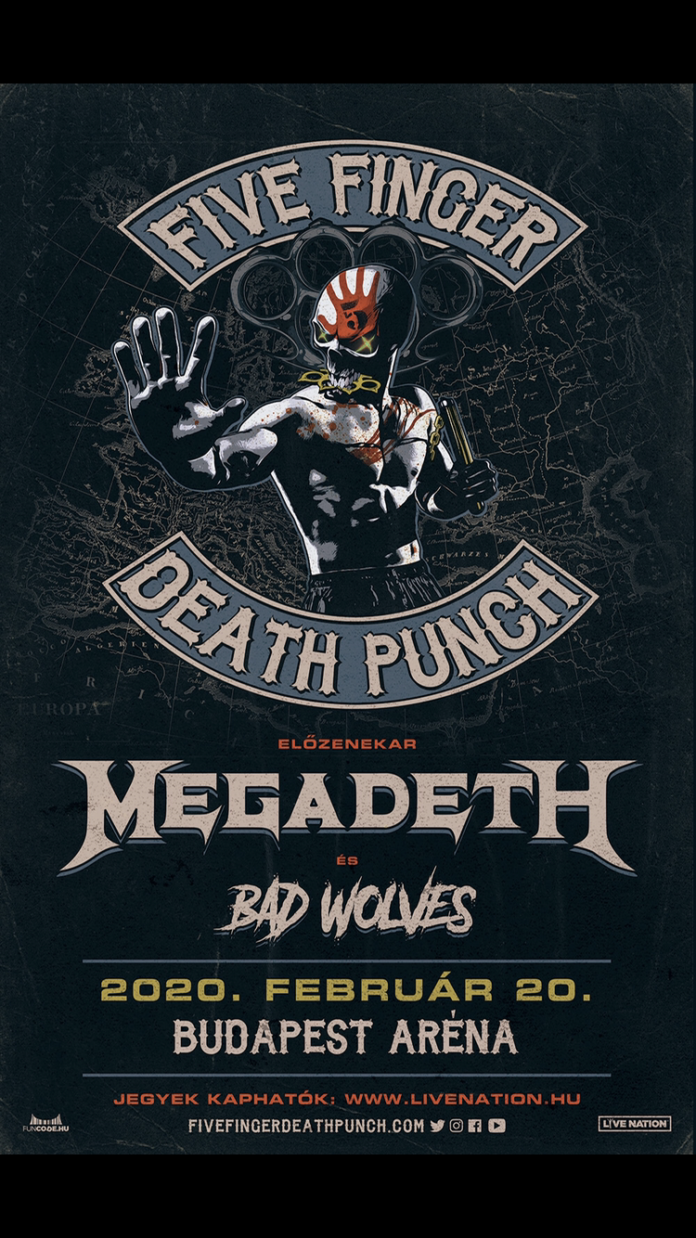 When:
February 20, 2020
all-day
2020-02-20T00:00:00-01:00
2020-02-21T00:00:00-01:00
FIVE FINGER DEATH PUNCH has announced its biggest European tour to date in January and February 2020, with multi-platinum legend MEGADETH and 2018's biggest rock sensation BAD WOLVES joining them as premiere bands. The latter band has collected three # 1 hits over the past year and a half and is currently preparing for their second album on October 25th. According to Zoltán Báthory, guitarist for FIVE FINGER DEATH PUNCH: "This line-up is very strong. Bad Wolves has been a great discovery of the last few years and will certainly be taking shape. And Megadeth needs no introduction, absolute legends. The influence of Dave Mustaine on this genre is invaluable. I consider him one of the founders of not only thrash but also heavy metal because his riffs and guitar playing influenced everyone who came within Megadeth's reach … and it's a great long range. "MEGADETH singer Dave Mustaine added," I'm looking forward to you will be in serious trouble if you do not come to see us at the Five Finger Death Punch concerts in early 2020. Believe me, you don't want to miss it. See you soon! "This sensational tour will be on view in Budapest on February 20, 2020, and the VIP pre-purchase will begin today at 1pm, with full ticket sales starting at 9pm on Friday, September 13th. they are looking forward to the unforgettable rock party of the winter of 2020. Further details can be found at www.fivefingerdeathpunch.com.
Concert tickets in Budapest will be available at www.livenation.hu and www.funcode.hu. Registered Live Nation members will also be available for pre-purchase on September 12th from 10am.
FIVE FINGER DEATH PUNCH will fill arenas around the world. They are already over 3 billion streams and breaking records all the time. The band has had 24 top10 successes in recent years and their upward career hasn't stopped: 2018 was another huge year for FIVE FINGER DEATH PUNCH, as they were the most played performers last year by US rock radio . And with their tour in the summer and fall of 2018, the band raised over $ 250,000 and donated to charities.
FIVE FINGER DEATH PUNCH's eighth studio album is expected in early 2020.
www.fivefingerdeathpunch.com TWITTER | INSTAGRAM | FACEBOOK |YOUTUBE
www.megadeth.com FACEBOOK | INSTAGRAM | TWITTER |YOUTUBE
www.badwolvesnation.com FACEBOOK | INSTAGRAM | TWITTER | YOUTUBE