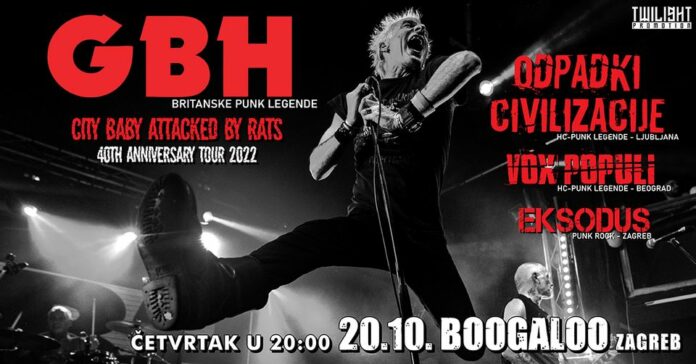 When:
2022-10-20T00:00:00+01:00
2022-10-21T00:00:00+01:00
BRITISH PUNK ROCK LEGENDS GBH ARE COMING AGAIN 20.10.2022. TO ZAGREB AS PART OF THEIR ANNIVERSARY TOUR FOR THE 40TH ANNIVERSARY OF THE PUBLICATION OF THEIR FIRST ALBUM "CITY BABY ATTACKED BY RATS". THEY WILL PERFORM AT THIS PUNK ROCK SPECTACLE WITH THE RE-FOUNDED LEGENDARY HC-PUNK BAND WASTE OF CIVILIZATION FROM LJUBLJANA, HC-PUNK LEGENDS VOX POPULI FROM BELGRADE AND ZAGREB OLD SCHOOL PUNK ROCKER EXODUS
On Thursday, October 20, British punk rock legends GBH will return to Zagreb after five years, and will perform in Zagreb's Boogaloo Club as part of their anniversary tour "City Baby Attacked By Rats 40th Anniversary Tour 2022", with which they are celebrating 40 years since the release of their of the first album "City Baby Attacked By Rats", which is considered one of the best and most important punk rock albums. In addition to GBH, this punk rock spectacle will also feature the recently re-established Slovenian hard core punk legends Odpadki Civilizacije, who caused a real boom with their return to the scene in Slovenia! Wastes of Civilization were founded in 1982 and are known as one of the best hard core punk bands from this area. In 1983, they appear on the compilation album "Kaj je alternative", and in 1985, with four songs on the cult hc punk compilation "Hard Core Ljubljana", which includes their biggest hit "Vojna – smrt". In the near future, they plan to make an album with old and new material, from which their new song "Anarchy" has already been included in the concert set list and was very well received by the audience. From Belgrade, Vox Populi are coming to this punk fest, and since 1994 they have been playing an uncompromising punk story and singing for local hard core punk legends. Besides gigs with UK Subs, Exploited, GBH, D.R.I., Dead Kennedys, Varukers,… can boast of performing at the biggest punk festival in the world "Rebelion" in the British city of Blackpool, and at this concert they will also present their new single "Javna tajna". Zagreb's old school punk rockers Exodus will perform as representatives of the local punk rock scene, who have been playing their punk story for almost 40 years, since 1983.
Punk rock legends GBH were formed in 1978 in Birmingham. Already with their first singles »No Survivors« and »Give Me Fire« they made their way to the »Top Of The UK Charts« and immediately gained a lot of attention with their specific hard core punk rock sound and eccentric punk image. The first album «City Baby Attacked By Rats» was released in 1982 and immediately brought GBH to the top of the punk scene. American and Japanese tours soon follow, where they play big halls and become, along with The Exploited, the biggest active punk rock group. The album «City Baby Attacked By Rats» and its follow-up from 1983 «City Baby Revenge» are now known as punk classics. Over the years, GBH released a whole series of albums, filled halls all over the world, singer Colin became an icon of the punk scene, and their logo is on thousands of leather jackets of punks around the world. Thanks to their uncompromisingness and originality, they became one of the biggest punk rock bands of the second generation along with The Exploited, Dead Kennedys, UK Subs, Discharge,… and because of his coquetry with the metal sound and the metal scene, he cites GBH as one of his role models, as well as Sepultura, Metallica, Slayer (they covered the song "Sick Boy")…and the media called them "Motorhead on '45", which would meant; "speeded up Motorhead".
GBH performed for the first time in Zagreb in 1987 in the legendary Kulušić, and the last time five years ago in the Vintage Industrial Bar. This will be their third appearance at the Boogaloo Club, where they first performed in a packed hall in 1999 at a concert that is still talked about today.
It is interesting that GBH is one of the few groups that has survived in an almost original line-up from the very beginning, only the drummer changed and that more than 30 years ago, which is probably one of the secrets of their success. In 1996, they released the album "Punk Junkies", which, along with the album "Beat the Bastards" by The Exploited, was declared the best punk rock album of the year due to its excellent modern production. With the eleventh studio album "Parfume and Piss", GBH return to their original raw sound, probably thanks to producer Lars Frederiksen from Rancid, and again achieve great attention from the media and audience. They continue the story with their twelfth album "Momentum" from 2017, with which they are still at the top of the world punk rock scene.
The concert will start at 20:00. The promotional price of tickets is HRK 100 until Monday, September 19, and from Tuesday, September 20, tickets will cost HRK 120, while on the day of the concert, tickets will cost HRK 140.
Tickets can be bought in the Zagreb shops Dirty Old Shop (Trtinska 18) and Rockmark – (Ul. Hrvatske bratske zajendje 4) as well as ordered through their web shops, at Boogaloo Caffe Bar (Ul. Grad aVukovara 68 – entrance from Ul. Ivana Lučić from 10:00 a.m. to 3:00 p.m.) and through the Entrio system and Entrio sales points.
GBH FB page:
https://www.facebook.com/GBH.official
WASTE OF CIVILIZATION FB page:
https://www.facebook.com/odpadkicivilizacije
VOX POPULI FB page:
https://m.facebook.com/voxpopuli1994
EXODUS FB page:
https://www.facebook.com/profile.php?id=100063487629806