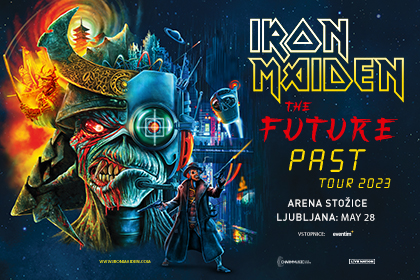 When:
2023-05-28T00:00:00+01:00
2023-05-29T00:00:00+01:00
IRON MAIDEN will open the "FUTURE PAST" Tour on May 28, 2023 in LJUBLJANA!
Iron Maiden will perform songs from their latest album "Senjutsu", along with iconic songs from the 1986 album "Somewhere In Time", as well as other band classics!
To the great delight of Slovenian and regional fans, IRON MAIDEN will start its new concert tour, The Future Past Tour, on May 28, 2023, right in Arena Stožice in Ljubljana! IRON MAIDEN are thus returning to Slovenia 16 years after their last performance at the Bezigrad stadium as part of the A Matter Of The Beast tour. At this new heavy metal spectacle in the Arena Stožice concert hall, songs from their latest studio album "Senjutsu" will be heard live for the first time, with a focus on songs from the cult album "Somewhere In Time" from 1986 as well as other great hits of IRON MAIDEN.
Tickets are on sale from Thursday, November 10, 2022, from 10:00 a.m. at www.eventim.hr and at all sales and authorized Eventim points of sale. Before then, a special pre-sale will be available for all registered fans of the band on the Iron Maiden website from Tuesday 8th November 2022 at 10:00am. Ticket prices range from 50 to 110 euros.
Iron Maiden founder and bassist Steve Harris said: "Following the release of our last album, 'Senjutsu', we've given the current Legacy of the Beast tour a bit of an update by opening the shows with the first three songs from the album, with a 'Japanese Palace' backdrop. Because it there is no point in repeating for the "Senjutsu" album tour, we thought about other options and decided to revive the "Somewhere In Time" tour since it was not included in the various historical retrospective tours we had in the past. Those tours were based on concert videos from the 80's 's, but unfortunately we didn't have recordings from that tour (blame the manager!) Over the years, we've received many requests from fans for many songs from this album, so we'll be playing them now, and of course a few more that we know you'll like. ! We are also very pleased that we will finally be able to play some of the epic songs from the album "Senjutsu" that we have been waiting for for a very long time! 2023 will be an exciting year and we are very much looking forward to ret with the audience in Slovenia, where we last played in 2007 on the A Matter Of The Beast summer tour."
The band's manager Rod Smallwood added: "We find the combination of these two albums very exciting. We know that fans want to hear the epic songs from the "Senjutsu" album live for the first time and we think that combined with an iconic album like "Somewhere In Time" will create a truly special tour for fans old and new! Of course, for the tour of the new album in Europe, we will return mostly to the relative intimacy of arenas, and we know that the fans will be very happy about that!"
IRON MAIDEN recently finished their spectacular world tour Legacy Of The Beast, which was interrupted for two years by Covid. The tour began in Tallinn, Estonia in May 2018, the first of 139 concerts in 33 countries. By the final show in Tampa, Florida on October 27, 2022, the band had played to over THREE MILLION fans on this epic world tour.
About the "Senjutsu" album:
Senjutsu debuted at number one on music charts in 27 countries after its September 2021 release: Austria, Belgium, Brazil, Bulgaria, Bolivia, Chile, Croatia, Colombia, Finland, Greece, Germany, Hungary, India*, Indonesia*, Italy, Korea, Malaysia*, Mexico, Portugal, Romania*, Russia, South Africa*, Spain, Sweden, Switzerland, Thailand* and Turkey (* = Apple's metal music chart as there are no physical/retail charts in these markets – digital only), # 2 in the UK, Czech Republic, France, Japan, the Netherlands, #3 in Australia, Ireland and the US (highest Billboard position for Iron Maiden in the US), #5 in Argentina, Denmark and Norway.
We will announce soon who will perform before IRON MAIDEN as a warm-up for the big heavy metal spectacle in Ljubljana. Additional concert dates for The Future Past Tour will be announced soon. As in previous years, it will be possible to enjoy the Trooper VIP experience, all details will be announced soon. Follow www.ironmaiden.com.
Ticket prices:
Front of Stage – 105 EUR
Ground floor – 83 EUR
Green ring 1 – 87 EUR
Green ring 2 – 77 EUR
Green ring 3 – 69 EUR
Red ring 1 – 57 EUR
Red ring 2 – 50 EUR
Sky boxes – 110 EUR