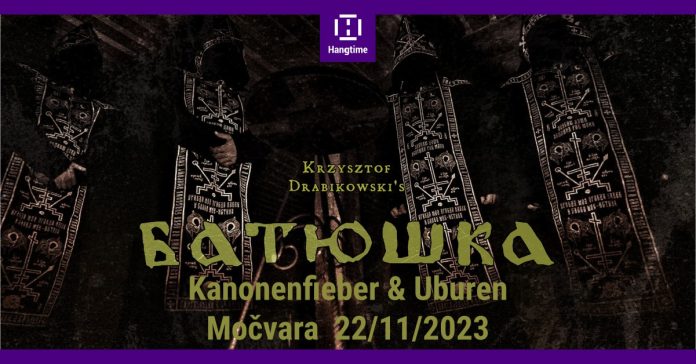 When:
2023-10-22T00:00:00+01:00
2023-10-23T00:00:00+01:00
The legendary Polish blackers Batushka (Batûška), led by founder Krzysztof "Derph" Drabikowski, are coming to enthrall Močvara for the first time, and the date of this exceptional ceremony is November 22 (Wednesday). They will be joined on stage by German Kanonenfieber and Norwegian Uburen. Tickets at the pre-sale price of 29 euros can be purchased at the Dirty Old Shop and on their website, and if there are any left at the entrance, they will cost 32 euros.
Batushka is a band formed in 2015 in Białystok. Their songs deal with Orthodoxy, and their lyrics are in the Old Slavonic language. The name of the band comes from the word for "father", i.e. any Orthodox priest, hieromonk. Multi-instrumentalist Drabikowski got the very idea of founding a band while reading comments on YouTube under videos with Orthodox music and how "holy songs are more metal than any satanic black metal". The band initially decided to be anonymous and covered in masks, in a way stripped of their identity so that listeners could focus more on the music itself. The band released the first single "Yekteníya VII" and then the debut album Litourgiía ("Litourgiya") ("Lithurgy") in December 2015. The album became a big hit on the metal scene and ensured the band great popularity and appearances at numerous festivals, and their performances in Russia and Belarus were canceled due to protests. Batushka soon splits into two bands: one led by Drabikowski, the other led by Bartłomiej "Bart" Krysiuk. In 2019, Drabikowski released the eight-song album Panihida ("Panihida") (Requiem) with the band, which received great reviews and was also very well received by fans.
Kanonenfieber is a project of a German multi-instrumentalist who literally hides behind the name Noise. The story began in 2020 in Bamberg, and in a very short time it attracted a large number of black metal fans. Noise released one album and one EP from his home studio, and he says that he is stuck because the music should speak for itself, and it should be listened to without prejudice. He also points out that all his texts are historically accurate and verifiable.
Facebook: https://www.facebook.com/Kanonenfieber
Youtube: https://www.youtube.com/watch?v=pDtXNckpqvc
Spotify: https://open.spotify.com/artist/5VI8SBEX7uSvoHsdI5xNVJ
Uburen is a three-member black metal band from Norway that was formed in 2010 under the name Skyggegjemsel. Their name in Old Norse, in a somewhat looser interpretation, would mean "rejected from the mother". So far, they have released four albums, and the most current of them, "Usurp the Throne", saw the light of day in January of this year, and the boys will promote it in Močvara.
Facebook: https://www.facebook.com/uburen
Youtube: https://www.youtube.com/watch?v=bDIFYy2GvkA
Instagram: https://www.instagram.com/uburen_official/
Spotify: https://open.spotify.com/artist/05piGk6N8G495RPMAbRMtO
All in all, a great black metal spectacle is in store. See you on 22.11. in the Močvara!