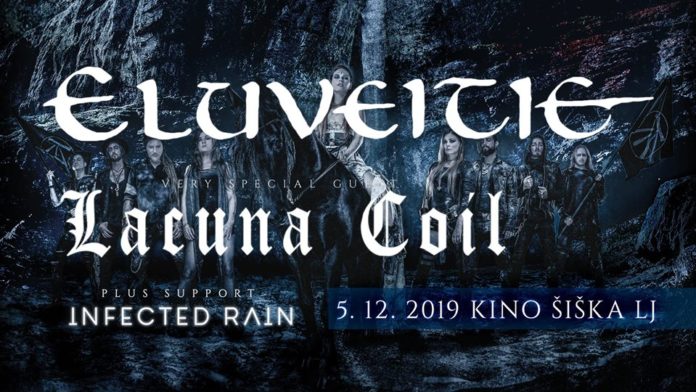 When:
2019-12-05T00:00:00-01:00
2019-12-06T00:00:00-01:00
ATEGNATOS EUROPEAN TOUR 2019 feat.
Eluveitie
+ Lacuna Coil
+ Infected Rain
Vstopnice! 25 evrov v predprodaji, 29 evrov na dan koncerta!
Vstopnice se lahko kupi prek Mojekarte.si in On-parole sistema, prav tako tudi v trgovini Truga in v Orto baru!
https://www.on-parole.com/si/shop/view/eluveitie-lacuna-coil-infected-rain-ljubljana-05-12-2019-ticket
https://www.mojekarte.si/si/eluveitie-special-support-lacuna-coil-infected-rain/vstopnice-1115728.html
Tickets! 25 euro in presale, 29 euro on show day!
Available through On-Parole on the link below!
https://www.on-parole.com/shop/view/eluveitie-lacuna-coil-infected-rain-ljubljana-05-12-2019-ticket
JOIN our FOLK METAL mailing list on the link below!
http://eepurl.com/bDeTqL
Decembrski folk metal napad
Veseli december … vsekakor bo vesel, če obožujete švicarsko folk metal zasedbo Eluveitie. Namreč, vrača se v Ljubljano!
Številčna zasedba bo aprila prek založbe Nuclear Blast izdala album Ategnatos, kar v galščini pomeni "preporod" oziroma "ponovno rojstvo". Gre za zanimiv, verjetno konceptualni izdelek, ki bo seveda prikazal, kaj zasedba zmore v letu 2019. Temu primerno bo tudi novi koncertni cikel predstavljal novo plato, a gotovo ne bodo pozabili na večne klasike, še posebej ne na tiste s kultne plošče Slania.
Ker za Eluveitie velja, da skorajda vedno razprodajo dvorano, nabavite vstopnice čimprej.
Poleg Švicarjev bodo oder zasedli še eni in edini italijanski gothic metalci Lacuna Coil, ki jih vodi neverjetno karizmatična Christina Scabbia, bend pa vam bo ponudil mračno metal izkušnjo, kot je verjetno še niste doživeli. Več kot uveljavljen bend vsekakor ne počne nič pod 110-odstotno.
Koncert bodo odprli nažigaški Infected Rain, ki jih boste lahko pred tem videli na Metaldays!
5. decembra, Miklavžev večer, si rezervirajte za metal v Kinu Šiška.