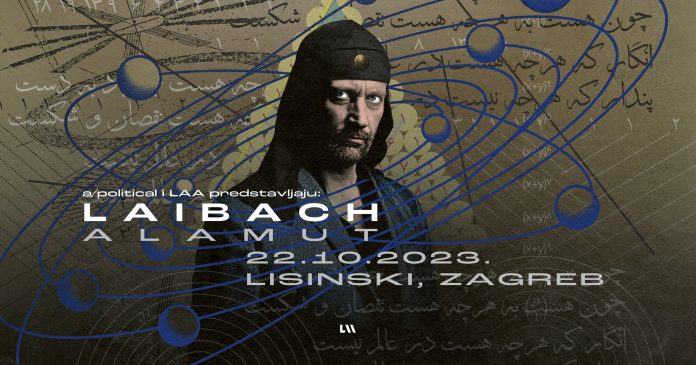 When:
2023-10-22T00:00:00+01:00
2023-10-23T00:00:00+01:00
Laibach in Zagreb present the symphonic composition "Alamut"
KD Vatroslav Lisinski, Zagreb // Sunday, October 22, 2023.
Cult Slovenian avant-garde band Laibach returns to Zagreb to present the composition "Alamut" in the Vatroslav Lisinski concert hall on Sunday, October 22, 2023.
"Alamut" is an original symphonic work by Laibach, which deals with a famous story based on historical events from Persia in the 11th century. The historical symphony had its world premiere last September at the Ljubljana Festival, and the Zagreb performance is scheduled for this fall.
Based on historical events as described in his book by the Slovenian writer Vladimir Bartol, the central character in "Alamut" is the heretic Hasan ibn Saba (Hassan-i Sabbāh), a charismatic religious and political leader of the Ismaelites and the founder of the mysterious Islamic sect of the Assassins (Hash'shasina ), whose name is still pronounced with awe.
In Laibach's Alamut, the ideas of radical political and religious nihilism intertwine with the classic Persian poetry of Omar Khayyam, the sensual verses of the poet Mahsati Ganjavi merge with minimalist sound colors based on the Iranian tradition, and Ibn Sab's infernal mechanism echoes the industrial principle of the orchestra with the unique sound of Laibach.
Laibach has been trying to present this work in Iran for a long time, with the Tehran Symphony Orchestra in the Vahdat Hall in Tehran, but the Covid epidemic and the intensified international political situation in the last two years made this presentation impossible or slowed down the negotiations.
The project was created by Laibach with the help of the English non-profit organization a/political and in cooperation with Iranian composers and other collaborators. Some parts of the composition were contributed by Idin Samima Mofakham and Nima Atrkar Rowshan, the RTV Slovenia Symphony Orchestra is conducted by Iranian conductor Navid Gohari, and the Tehran mixed choir Human Voice Ensemble is among the performers. In addition to the above, the women's choir Gallina, the Disharmonic Cohort, or accordion orchestra AccordiOna, and members of the Laibach group are also involved in the realization of the project.
In Zagreb, Laibach will perform the piece in collaboration with the aforementioned on October 22 in the Vatroslav Lisinski concert hall.
Early bird tickets are on sale from Thursday, April 20 at 10:00 a.m., in the Eventim and Ulaznice.hr systems.
The first early bird price range is from 26 to 36 euros, depending on the place in the hall.