When:
2019-11-04T00:00:00-01:00
2019-11-05T00:00:00-01:00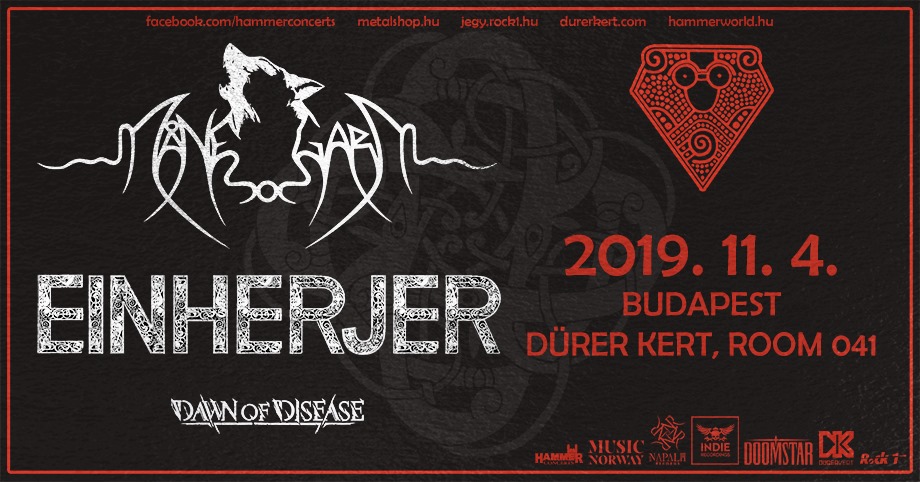 A Hammer Concerts bemutatja:
Manegarm
Einherjer
Dawn of Disease
2019.11.04.
Dürer Kert – Room 041
❒ JEGYLINKEK:
https://jegy.rock1.hu/manegarm-einherjer-durerkert_20191114
https://www.ticketportal.hu/event/MANEGARM-EINHERJER-Dawn-of-Disease
❒ JEGYÁRAK:
4999 Ft – elővételben
5999 Ft – a koncert napján és a helyszínen
❒ JEGYINFORMÁCIÓ / TICKET INFORMATIONS
▲ Felelősséget csak a ROCK1, vagy hivatalos partnereinktől (www.ticketportal.hu, www.broadway.hu) vásárolt jegyekért tudunk vállalni. // We can only take responsibility for those tickets which were bought at ROCK1 or at our official partners.
▲ A jegyedet ne tedd közzé semmilyen felületen // Please do not post your ticket at any online interface!
❑ KORHATÁR A PROGRAMOKRA // AGE LIMIT
18 éven aluliak csak szülői kísérettel vehetnek részt a koncerten
10 éves korig a belépés ingyenes, de regisztrációs jegy váltásához kötött // Under age 18 the shows can be attended only with parental attendance. Under age 10 the shows are free but registration is required.
❑ A MŰSORVÁLTOZÁS JOGÁT FENNTARTJUK! // TIMES MAY BE SUBJECT TO CHANGE!