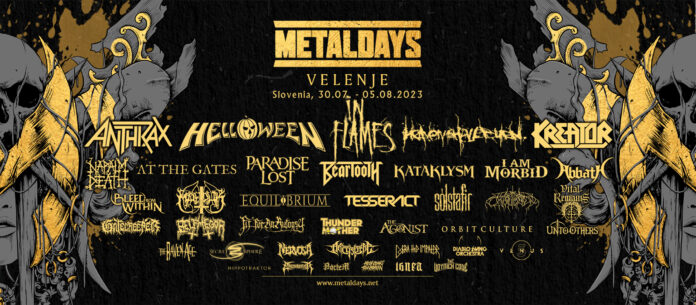 When:
July 30, 2023 @ 16:53 – August 5, 2023 @ 17:53
2023-07-30T16:53:00+01:00
2023-08-05T17:53:00+01:00
LINEUP A-Z:
ABBATH / ANTHRAX /ARCHSPIRE / AT THE GATES / BEARTOOTH BELPHEGOR / BLEED FROM WITHIN / COBRA THE IMPALER
DIABLO SWING ORCHESTRA / ENDSEEKER / EQUILIBRIUM
FIT FOR AN AUTOPSY  / GATECREEPER / HEAVEN SHALL BURN HELLOWEEN / HERE COMES THE KRAKEN / HIPPPOTRAKTOR
 I AM MORBID / IGNEA / IN FLAMES / KATAKLYSM KREATOR / MARDUK / NAPALM DEATH / NERVOSA / NOCTEM
ORBIT CULTURE / PARADISE LOST / SECRET SPHERE
SÓLSTAFIR / TESSERACT / THE AGONIST / THE RAVEN AGE
THE VOYNICH CODE / THUNDERMOTHER / UNTO OTHERS VENUS 5 /  VITAL REMAINS / WOLVES IN THE THRONE ROOM
MetalDays Festival is a unique music event; since 2013, over 12.000 metalheads from more than 70 different countries from all over the world come to one place – MetalDays festival. Located in Slovenia, at Lake Velenje, the festival offers the best of both worlds : amazing nature and welcoming surroundings, joined with the best artists and bands that the metal genre has to offer. MetalDays is one of the central metal events in this part of Europe, attracting a massive international audience of thousands of fans from Scandinavia, Germany, Austria, France, Spain, the Mediterranean countries, and Slovenia. This is, among other things, due to the carefully crafted conjunction of a musical experience with a tourist one.
The festival takes place at Lake Velenje, and merges the unique concept of metal music event with festival holidays, the concept which was invented and pioneered by MetalDays festival since its beginning. Its programme represents a wide variety of genres and sub-genres of metal with the addition of hardcore influenced styles in the whole week gathering of bands performing on 5 festival stages. Friendly and absolutely relaxed atmosphere, perfect for you to just forget about all worries and enjoy your most likely best holiday ever! You will never regret visiting MetalDays!