When:
December 12, 2020
all-day
2020-12-12T00:00:00-01:00
2020-12-13T00:00:00-01:00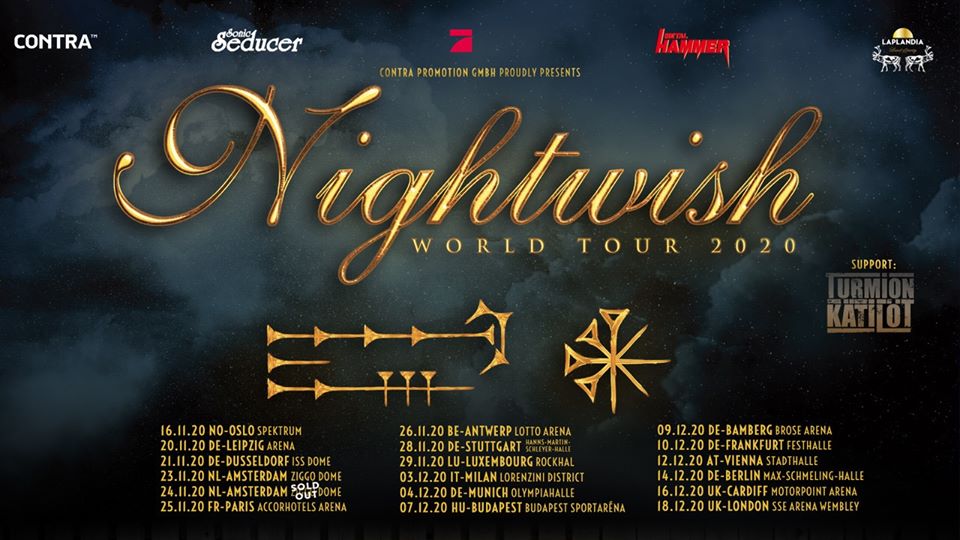 CONTRA Promotion & CONCERTO Music presents:
NIGHTWISH – World Tour 2020
special guest: …………., support: Turmion Midwives
December 7, 2020, gate opening: 6:00 pm
Papp László Budapest Sports Arena
Tickets on November 12, 2019 from 11:00 on Ticketportal.
Nightwish: One year later a new album will be released in the Arena!
It is becoming a tradition that one of the most successful metal bands of the last decades, Nightwish, is waiting for the Hungarian fans for a big concert at the Papp László Budapest Sport Arena. The same will happen in 2020, as the next tour of the Finnish symphonic metal band has been announced: Budapest will play in more than a year, on December 7, 2020, with several bands.
The band is still in full swing: Dutch-born singer Floor Jansen recently said in an interview that they have finished recording their new album for the spring, following 2015's Endless Forms Most Beautiful. Floor also said that after a long rehearsal, the team has added new songs, and after their retrospective Decades tour, they are now excited to finally work together on something new.
And what is the Nightwish concert experience like? We get a taste of the band's recent video of Devil & Deep Dark Ocean in Buenos Aires. This recording will also be featured on the new live recording of Decades: Live In Buenos Aires, which will be available this December, BluRay digibook, 2 CD digipak, BluRay +2 CD earbook, and 3 disc vinyl. https://youtu.be/t26r_vAYQ0Q
Tickets for the Budapest concert will start at 11 am on Tuesday, November 12th.
Concerto Music presents Nightwish World Tour 2020
Monday, December 7, 2020
Papp László Budapest Sports Arena
Nightwish Concert + Guests
Admission: standard standing tickets $ 4,900, featured standing tickets $ 4,900, seat tickets $ 4,000
Tickets are available through the Ticketportal network on November 12 from 11am.