When:
November 16, 2019
all-day
2019-11-16T00:00:00-01:00
2019-11-17T00:00:00-01:00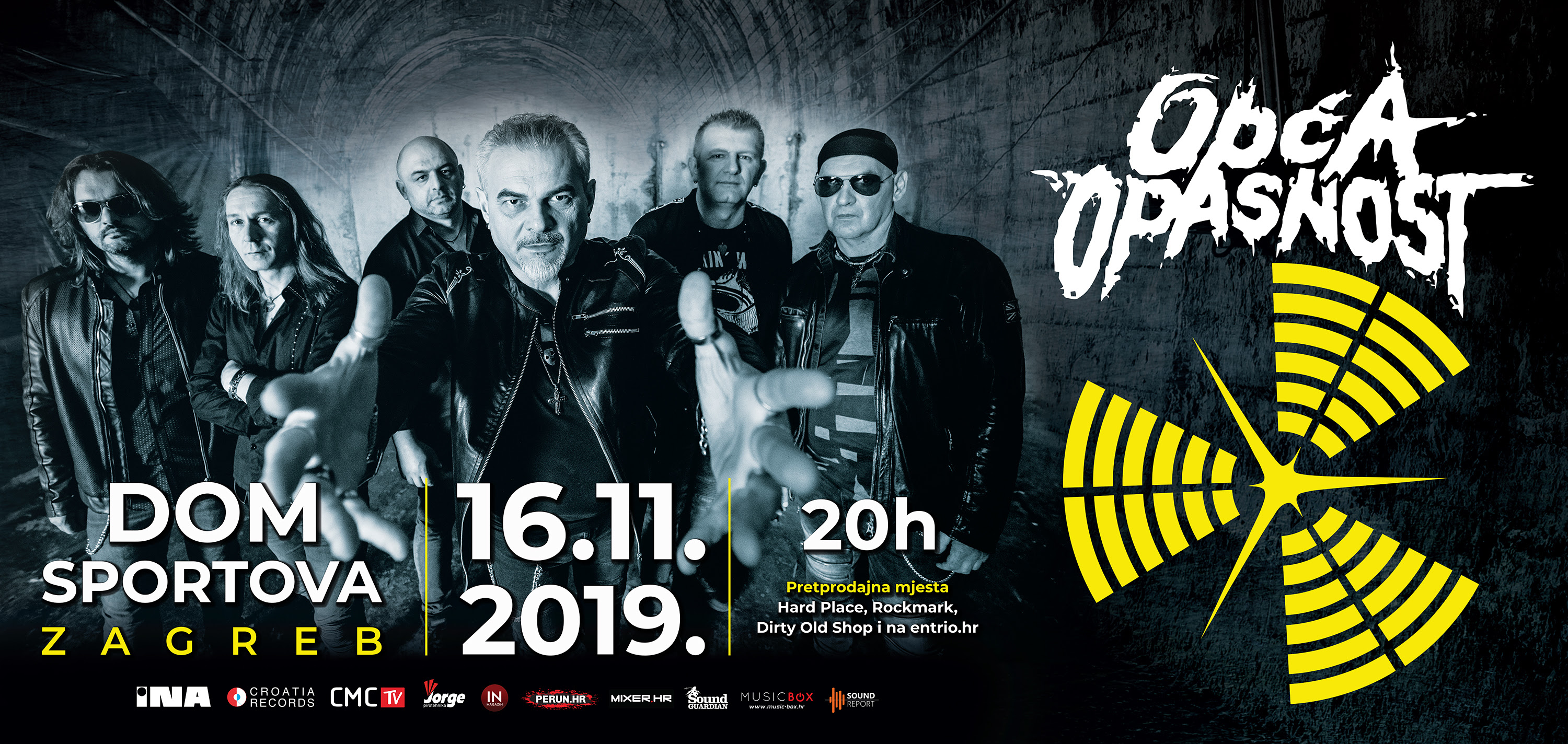 Opća Opasnost u Domu sportova: Parter rasprodan!
Oni koji "Trebaju nešto jače od sna" znaju gdje će biti 16. studenog i već imaju svoju "Kartu do prošlosti"! Takvih je, čini se, puno jer ulaznice za parter Doma sportova gotovo su rasprodane!
Do velikog koncerta Opće Opasnosti dijeli nas svega 10 dana, a "Jednom kad dugoočekivana koncertna noć" dođe, na blagajnama bi se mogla tražiti ulaznica više!
Opća Opasnost će 16. studenog u Domu sportova održati veliku koncertnu promociju albuma "Karta do prošlosti". Bit će to njihov najveći i jedini ovogodišnji samostalni koncert u Zagrebu, a dodatna posebnost je i to što će zajedno s publikom proslaviti 27 godina postojanja benda.
Veliki interes za koncertom potvrđen je još ljetos kada se trećina kapaciteta razgrabila već u prvim danima prodaje dok početak studenog i najnoviji podaci, kao i pozicioniranje na sam vrh najtraženijih ulaznica u sustavu Entrio, pokazuju kako nema sumnje da je Opća Opasnost i ove godine među najomiljenijim izvođačima domaće rock scene. Parter je rasprodan i u prodaji je preostao još samo mali broj ulaznica za tribinu.

Nastup u Domu Sportova najpopularnijem slavonskom rock bendu predstavlja izazov i čast budući da je to, kako sami kažu: kultno mjesto za održavanje velikog koncerta. Tom prilikom pripremaju izvanredni glazbeni događaj kakav se ne može vidjeti na njihovom redovnim koncertima. Vrhunska produkcija posebno je osmišljena za ovaj dugoočekivani nastup te je prilagođena pozornici i uvjetima male dvorane Doma sportova te se koncert neće se seliti u veliku dvoranu. Uz posebnu produkciju Opća Opasnost priprema i poseban repertoar te će uz predstavljanje pjesama s najnovijeg izdanja "Karta do prošlosti" (već sad proglašenog albumom godine) i najveće hitove iz karijere kao što su: "Treba mi nešto jače od sna", "Jednom kad noć", "Pobjeg'o sam", "Kriva si", "Tragovi" i "Uzalud sunce sja", publiku iznenaditi i pokojom pjesmom koju će za mnogobrojnu publiku u Domu sportova ekskluzivno izvesti po prvi put!
"Sa sobom nosimo čistu slavonsku energiju i veliko slavonsko srce! Veselimo se koncertu, jer znamo da će nam biti odlično! Vidimo se 16.11. u Domu sportova. Voli vas vaša Opća Opasnost!"
Kao poseban glazbeni gost koncert će svojim nastupom otvoriti mladi zagrebački autorski bend Magnar, pobjednik natječaja "Karta do budućnosti".
Cijena ulaznice za tribine ovog dvoranskog spektakla iznosi 100 kuna, a ako ih još bude, na dan koncerta iznosit će 120 kuna. Dostupne su online, kao i na svim prodajnim mjestima sustava entrio.hr te u klubu Hard Place, Rockmarku i Dirty Old Shopu.