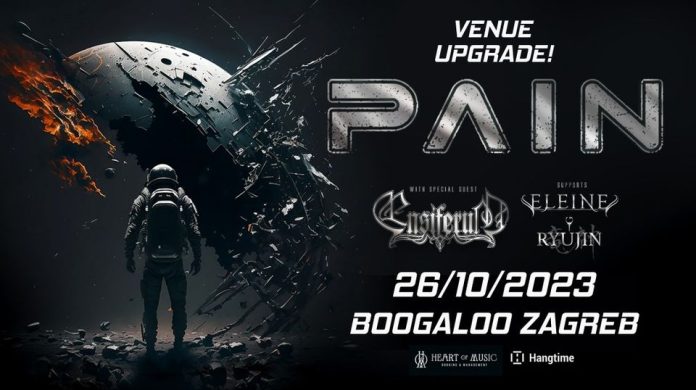 When:
2023-10-26T00:00:00+01:00
2023-10-27T00:00:00+01:00
After 14 years, the Swedish industrial metallers PAIN are returning to Zagreb as part of the big European tour "I AM"! They will be joined on stage as special guests by Finnish folk metal legends Ensiferum. This exceptional metalion evening will be enriched by Swedish Eleine and Japanese Ryjujin. The date is October 26 (Thursday).
Tickets at the presale price of 30 euros can be purchased at the Dirty Old Shop and through their website. On the day, if they are left, they will cost 34 euros.
PAIN was founded in 1996 in the Swedish city of Ludvika, and its founder is the multitalented Peter Tägtgren. He is also the only permanent member, best known for his work with the band Hypocrisy. Stylistically, it can be defined as a combination of heavy metal, electronic music and techno from the 80s. PAIN has released eight albums so far, which include hits such as "End Of The Line", "Shut Your Mouth", "Same Old Song", "Follow Me" and "Coming Home". The Zagreb audience had the opportunity to meet them in 2009, when they performed in Cibona as the opening act for Nightwish. As part of this tour, they will visit 17 countries and as many as 33 cities, and Peter will be joined on stage by his son Sebastian on drums, Jonathan Olsson on bass (recently performed in Močvara with the band Dynazty) and Sebastian Svalland on guitar.
Website – www.painworldwide.com
Facebook – https://www.facebook.com/OfficialPain
Instagram – https://www.instagram.com/painbandofficial
YouTube – www.youtube.com/@pain
Ensiferum is a Finnish melodic folk metal band formed in 1995 in Helsinki, and their name could be translated from Latin as "those who carry the sword". The band has released eight albums so far, and the last of them, "Thallasic", will now be presented to the domestic audience for the first time. After five years, they return to Zagreb once again to justify their reputation as a great live band that has a lot of fans among Croatian metalheads. The band members are Markus Toivonen (guitar, backing vocals), Petri Lindroos (vocals, guitar), Sami Hinkka (bass), Janne Parviainen (drums) and Pekka Montin (keyboards).
Website – https://ensiferum.com/
Facebook – https://www.facebook.com/Ensiferum
Instagram – https://www.instagram.com/ensiferummetal/
Youtube – https://www.youtube.com/watch?v=-2WqQY_xSSM
Eleine is a Swedish dark symphonic metal band led by singer Madeleine Liljestam, after whose nickname the band got its name. It was created in 2014, and in its nine years of existence, they have released four studio albums, and the last of them, "We Shall Remain", was released in mid-July and will be presented  on this occasion. So far they have toured with bands such as W.A.S.P., Arch Enemy, Moonspell, Sonata Arctica and Myrath, and this will be their first performance in Croatia!
https://www.youtube.com/watch?v=eKYHfQuBHFg
https://www.facebook.com/eleineofficial
https://www.instagram.com/eleineofficial
Ryujin (Japanese deity, sea dragon) is a band from Hokkaido, founded in 2009 by brothers Ryoji and Shuji Shinomoto, then under the name Suicide Heaven. They play a kind of melodic death metal, with a pinch of folk and power. Of course, in a very specific, Japanese way, so the band could be liked by all fans of their culture, and especially those who like anime. They have released four albums so far, and this time they will present themselves to the Croatian audience for the first time.
https://www.facebook.com/ryujinbandjp
https://www.youtube.com/watch?v=dz62hGl8CI0
https://open.spotify.com/artist/0E40KPKfyyqTXyPHbPf2ou