When:
November 10, 2019
all-day
2019-11-10T00:00:00-01:00
2019-11-11T00:00:00-01:00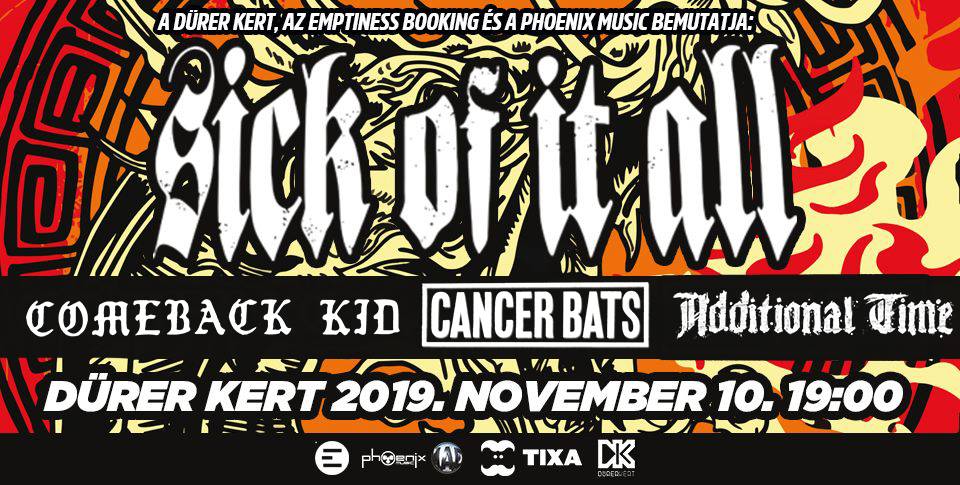 A Dürer Kert, az Emptiness Booking és a Phoenix Music Hungary bemutatja:
2019. November 10. (Vasárnap) @ Dürer Kert – Nagyterem
Sick Of It All (US)
Comeback Kid (CA)
Cancer Bats (CA)
ADDITIONAL TIME (DE)
Jegyek / Tickets:
6000 HUF – Early Bird – ELFOGYOTT
6800 HUF – Limitált elővétel – ELFOGYOTT
7500 HUF – Normál ár
Kapunyitás / Doors: 19:00
Régóta nem látott kaliberű bulit hozott össze a Dürer Kert, az Emptiness Booking és a Phoenix Music november 10-re azzal, hogy egy tető alá hívta a hardcore színtér talán legnagyobb bandáit a Sick Of It All, a Comback Kid és a Cancer Bats hármasával. A Dragon Fire Tour keretében így érkező Koller-testvérek életműve páratlanul fedi le a hardcore műfaj elmúlt harminc évének változásait, hiszen a nyolcvanas évek közepén alakult banda hangzásában is annyi hatás vált meghatározóvá, hogy minden egyes lemez egyfajta korlenyomatnak is tekinthető. A melodikus hardcore kanadai képviseletét ellátó Comeback Kid ugyancsak nem szorul különösebb bemutatásra, hiszen jártak már a Dürer Kertben, akárcsak a szintén kanadai Cancer Bats. Hárman egyszerre egy helyen, egy este viszont soha nem voltak még Magyarországon, így november 10-én, még az év vége előtt összejön az év bulija, amely garantáltan be fogja írni magát a magyar hc-színtér történetébe.
www.durerkert.com
www.sickofitall.com
www.comeback-kid.com
www.cancerbats.com