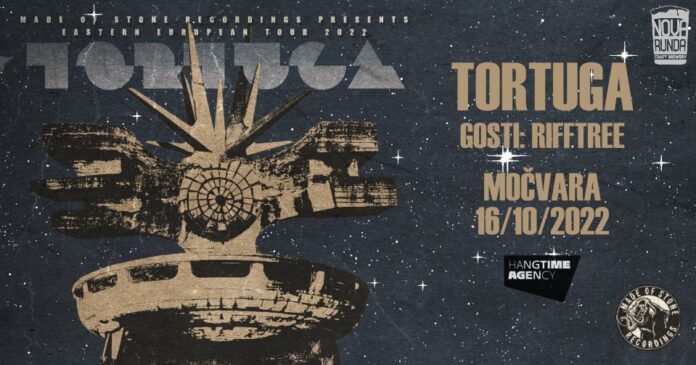 When:
2022-10-16T00:00:00+01:00
2022-10-17T00:00:00+01:00
Stoner doom band Tortuga will prove that Poland has become one of the European epicenters of extreme and fierce music. Lovers of such a sound with hints of psychedelia, as well as fans of H.F. Lovecraft, will come into its own on Sunday, October 16 in Močvara. Before them, the young Zagreb duo Rifftree will perform. Tickets at a pre-sale price of HRK 90 can be purchased at the Dirty Old Shop, on the day they will cost HRK 110.
Tortuga (Spanish for turtle) is a band founded in 2016 in Poznan. In the beginning, they were united by their love for H.F.'s stories. Lovecraft, horror and doom metal, and they wanted to share that joy with like-minded people and fans all over the world. So far, they have released two albums: "Tortuga" from 2017 and "Deities", which they released in 2020, which they will promote on this occasion. He is greatly inspired by the divine and omnipresent beings from Lovecraft's stories, the so-called. "Great Old Ones", and there are seven songs on it, mostly long instrumentals. In cooperation with the Greek label Made of Stone Recordings, a record will be available for purchase at the concert. The band members are: Marmur (drums), Heszu (bass), Bablo (guitar, vocals) and Kłosu (guitar, synth, vocals).
FB: https://web.facebook.com/tortugapl?_rdc=1&_rdr
YT: https://www.youtube.com/watch?reload=9&v=w-DPEQZ4yRc
SP: https://open.spotify.com/album/5RyxnczhInJC0CvGx4ThBk
Young, noisy duo, worshipers of fuzz and loudness, Rifftree, were born and raised in the Zagreb underground in 2018. After playing in smoky garages and local clubs around Croatia, they surface and release the self-titled EP in early 2022. They are defined by hard riffs, psychedelic sounds and a sea of ​​fuzz that throws you into a trance.
Bandcamp: https://rifftree.bandcamp.com/
Instagram: https://www.instagram.com/rifftreeband/
Facebook: https://www.facebook.com/profile.php?id=100077795007256
Spotify: https://open.spotify.com/artist/6wp9GVlI9YbbJDiZTPuOC6