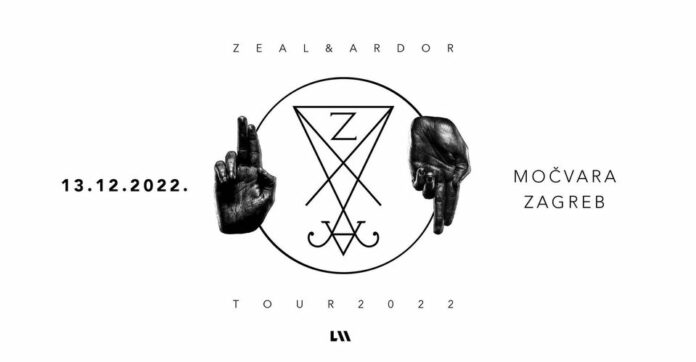 When:
December 14, 2022
all-day
2022-12-14T00:00:00+00:00
2022-12-15T00:00:00+00:00
ZEAL & ARDOR
SWAMP CLUB
TUESDAY, 13.12.2022.
The Swiss-American avant-garde band Zeal & Ardor is coming to Zagreb club Močvara on Tuesday, December 13, 2022.
Zeal & Ardor combine black metal, activism and ritual and historical elements in a new format, and they present everything through powerful concerts. What began as a solo project of acclaimed Swiss-American musician and vocalist Manuel Gagneux has grown into a multi-member band.
They gained attention with their album "Devil Is Fine" and their eclectic sound that combines African-American music and black metal, and Rolling Stone included it in the list of the best metal records of 2016, after which the band also performed as an opening act for Prophets Of Rage and Marilyn Manson. The successor to "Stranger Fruit" once again showed the diversity of the band that included blues rock and soul on the album, showing how they are constantly evolving in their metal sound, while the "Wake of Nation" EP talks about the social unrest in America.
The latest album "Zeal & Ardor" breaks the boundaries between reality and dreams in a burst of noise in a world destroyed by technology. The media is praising the new album, Metal Hammer classified it as one of the best metal albums of the year so far, and Kerrang says that this is one of the band's fiercest albums that resonates with the exploration of the dark corners of the human past.
Tickets go on sale on Friday, June 17 from 10:00 a.m. for HRK 100. This price will be valid until July 31, after which it will rise to HRK 120, and on the day of the concert, HRK 140 will need to be allocated for the ticket.
The sales points are Dirty Old Shop, Rockmark and all points of sale of the Eventim system and online at eventim.hr.